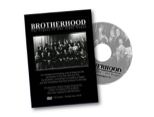 On November 21, 2016, the RTA School of Media honoured it's best at the annual Awards Ceremony at Ryerson University. Two RTA students received the Rho Alpha Kappa Alumni Association Award of $1,450 each - third year students Tyler Keating and Mikael Melo.
The Rho Alpha Kappa Alumni Association Award is in its 17th year and is made possible by an endowed fund established by the association and administered by Ryerson University. The fund now approaches $100,000 and ensures annual student awards in perpetuity.
BROTHERHOOD is a intimate and amusing look at fraternity life at Ryerson in the 50s and 60s, the Brothers' commitment to build a legacy and the friendships that endure to this day.
BROTHERHOOD is available on DVD. Send us an email if you would like a free copy.
Brian Bobbie, Mikael Milo, Tyler Keating, Joe Lewis, Tom Brennand
2016 Rho Award Honours 2 RTA Students

Ryerson Homecoming Weekend

RhoGolf'17: annual golf tournement helps build endownment fund
On July 8, 2017 brothers and friends of Rho gather for RhoGolf'17 at Erin Heights Golf Club for a great day of golf, camaraderie and a delicious dinner. The event is a fundraiser for the Rho Alpha Kappa Alumni Association endowed fund at Ryerson. Special thanks to Ryerson University Advancement for offering prizes, pens and pins, as well as blue Ryerson Alumni caps.
RhoGolf'17 Champions:
Steve Brent, Bill Boyd and Brian Bobbie